WALKABOUT BILLY
WALKABOUT BILLY
WALKABOUT BILLY
VIETNAM WAR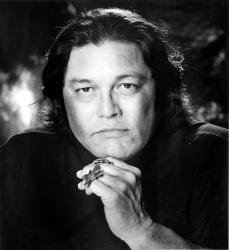 Billy Walkabout is the most decorated Native American during the Vietnam War .
He earned the Distinguished Service Cross , the U.S. Silver Star, a Bronze Star U.S. , seven U.S. Air Medals , 10 Army Commendation Medals , five with the badge value and six Purple Hearts .


Billy is a Cherokee, Blue Holly Clan '' '' Oklahoma .
He served in Vietnam in Company F , 58th Infantry , 101st Airborne Division.
He won his first medal in a reconnaissance mission behind enemy lines .
Taken under enemy fire for several hours , seriously wounded ( three of his camadares were killed ) , he held the front until the hélicoptere evacuation has camadares evacuate the wounded , bring the bodies of the three killed in the
hélicoptere .
He remained in a coma for six months and then returned to combat.


With dialysis had to have exposure '' defoliant Agent Orange in Vietnam '' , he died March 7, 2007 of pneumonia and complications Renals .