SHEEWACK JOHN
SHEEWACK JOHN
SHEEWACK JOHN
FIRST WORLD WAR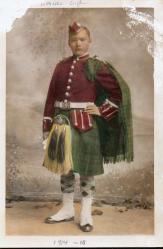 Received the British War Medal and Victory Medal , was killed in 
Battle of Cambrai in northern France , 20 November 1917.
Shiwak , a hunter and trapper -Inuit community of Rigolet , Labrador , was elite sniper scout in Company "F" of the 1st Regiment of Newfoundland and Labrador .
Shiwak distinguished himself as an expert marksman while serving on the front lines .
An unidentified officer allegedly told Shiwak he was the best elite British army sniper .
Captain RH Tait, the regiment of Newfoundland and Labrador , said Lance Corporal 28 years was "a great 
favorite with all ranks , an excellent scout and observer , a good friend and a trusted colleague . "
Shiwak attributed his qualities shooter experience of the hunt , where he watched the water to shoot the seals as they arose 
to breathe.
He was killed in action after injuries from shrapnel, at the age of 28 years.
His colleague Brigade "F" , the soldier Frederick Freida , the remote community of Hopedale , Labrador , was luckier .
He was able to return home.
In 1951, at age 55 , the soldier Freida decided to serve his country as a Canadian Ranger in the Arctic.