LONGBOAT THOMAS
LONGBOAT THOMAS
LONGBOAT THOMAS
FIRST WORLD WAR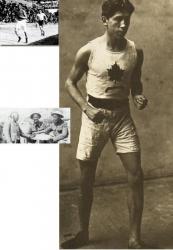 Thomas Charles Longboat has not received any awards for bravery .
He was not killed in battle by performing a daring and exceptional prowess.
It is rather an example of self-denial that evidence did Canadians face the chaos that spread across Europe .


Longboat was an Onondaga of the Grand River Six Nations reserve .
He had a good reason not to join : he was world champion distance runner .
In 1907 , he won the Boston Marathon ( a distance of about 40 kilometers ) in record time .
His closest competitor was four fifths of kilometers behind him.
His fame became even more important in 1909 when he won the world championship of professional marathon at Madison Square Garden in New York.


His running had earned him thousands of dollars when, in February 1916 at the age of 29 , he abandoned his athletic career to enlist.
Although the rewards were of a different order , he continued to race .
Longboat courier was the 107th Pioneer Battalion in France and delivered messages and orders between units.
He also kept in shape by participating in running competitions between the battalions , which he won repeatedly .
During competitions , Canadian Expeditionary Force , which took place as part of Dominion Day in 1918, Longboat won the race eight miles [ 13 km ] .


The famous runner was wounded twice during his service.
On one occasion, he was declared dead, but he survived the war and returned safely to Canada in 1919.
Tom Longboat died in 1949 at the age of 62 .
It is part of the Hall of Fame and the Canadian Sports Hall of Fame Indians.