Vietnam
Vietnam
42,062 Served

310 Deaths in service
Of the more than 42,000 Indians who served in the military during the Vietnam War, 135 were members of the Montana Crow Nation, including Carson Walks Over Ice, a nephew of Joseph Medicine Crow. Like his uncle, Walks Over Ice had grown up listening to stories about the great crow warriors of the past, and he volunteered to go to Vietnam although his service commitment was about to end, because he wanted to live to the warrior traditions of his people.
Ernie Dogwolf Lovato, an apache from Lingo, Wyoming, joined the Marines and went to Vietnam for the same reasons. Lavato expresses the inherent conflict of trying to follow ancient traditions in the modern world.
"The biggest thrill for a young man is to become a warrior and get status within the tribe, that's our ultimate goal. The sad thing to become a warrior nowadays, however, is that (tribes) ... do not know how to count shots anymore. There must be a war. So, how can we get our youth to be warriors without killing them? I feel strongly ... that being a warrior is really not as important as having a son or a daughter, and watching their sons give them children and grandchildren. I'm lucky. I have nine big children.
The warrior tradition provides a common bond, a fraternity shared in the US military, with members of tribes who were traditional enemies: Walks Over Ice's best friend, and his adoptive brother, was Richard Spider, a Sioux, formerly the Deadly enemies of Crows.
Walkabout received the Distinguished Service Cross, the Purple Heart, five silver stars and five bronze stars.

Walkabout served as Army Ranger in Vietnam, in Company F, 58th Infantry, 101st Airborne Division. Walkabout (then Specialist Four) distinguished himself by exceptionally valuable actions on November 20, 1968 during a long-range reconnaissance patrol southwest of Hue.

"After a successful ambush on an enemy track, the patrol launches a radio message for immediate helicopter extraction. When the extraction helicopters arrived and the leader started to move to the pickup area, he was badly wounded by hostile automatic weapons. Sergeant Walkabout quickly got up and delivered continuous and suppressive fire on the attackers while other members of the team pulled the injured man to their ranks. Sergeant Walkabout then administered first aid to the soldier for medical evacuation. when the man was loaded into the evacuation helicopter, the enemy elements again attacked the team.

Maneuvering under heavy enemy fire, Sergeant Walkabout positions himself where the enemy concentrates his assault and places a continuous shot on the opponent. A grenade was thrown at the company, instantly killing three men and wounding everyone else. Although stunned and injured by the explosion, Sergeant Walkabout rushed from man to man, administering first aid, bandaging a soldier's severe chest wound and resuscitating another soldier with a cardiac massage. He then coordinated the air and tactical attacks on the enemy's positions. When evacuation helicopters arrived again, he worked alone under enemy fire to board his wounded comrades. It was only when the victims were evacuated and friendly reinforcements arrived that he let himself be extracted. ''

He withdrew from the army with the rank of second lieutenant. In a 1986 interview with The Associated Press, Walkabout says that his 23 months in Vietnam left him with disabling wounds and memories that refused to fade away: "The war is not hell," he says, "It's worse."

he struggled with failed marriages, thoughts of suicide and years of isolation, he often refused to sleep near his wife, afraid to strangle him in his sleep or try to push her under the bed to protect her bombs he imagined.

Over the years, however, he found solace in the powwows where he was often an honored guest, leading the dances.

"I am at peace with myself," said Walkabout in 1986. "I have my dignity and I have my pride ... I never lost the war in Vietnam, I never lost a day. When I was injured, I did not lose, when I fought, I won, I won my wars. "

He suffered complications from exposure to defoliant Agent Orange used in Vietnam. He was waiting for a kidney transplant and dialysis three times a week. He died of pneumonia and kidney failure in a hospital in Norwich, Connecticut.

He was honored in a portrait, Walkabout: A Warrior's Spirit, by Cherokee artist Talmadge Davis.
Andrew lewis, an Indian painter from New Mexico, explains his enlistment as follows: "Everyone in my family was in the military, my grandmother was a Red Cross nurse during the First World War. My grandfather was a captain in the First World War. My uncles were in World War II. My mother was a Red Cross nurse during the Korean War, and my father is a veteran of the Korean War. Now, my older brother went to Vietnam in the early 60's. But why did I go? I just wanted to go. I had friends who enlisted. In my family we enlisted, so I could go as well. I wanted to see how my attitude would change in military life. I was born at home on the pueblo and did not have a birth certificate, so I could say I was old enough to hire me. I entered the army when I was only fourteen. ''
Officially Canada did not participate in the Vietnam War, yet at least 49 Native Americans crossed the border to serve in the United States Army. 4 never returned.
There is a memorial in Wisconsin honoring the native people who died during the Vietnam War. Dedicated in 1995, his foot contains the list of American Indian soldiers killed in service and based on the official list, except that he misses, at least 8! :
- SP4 TEN huskie yazzie begay - 22 years old,
- Cpl SNOW craford lyndon - 22 years old - paiute,
- Pfc BUTTS john michael - 19 years old - pottawatomie,
- Cpt HOPE michael clint - 29 years old - muscogee creek,
- Pte NEWTON leonard lee - 19 years old - muscogee creek,
- T / sgt PERRYMAN dallas - 32 years old - muscogee creek,
- F1C RUFF gary l - 21 years old - pottawatomie,
- SP4 WILLIAMS danny - 21 years old - muscogee creek.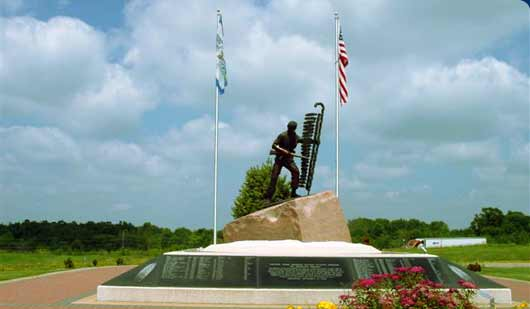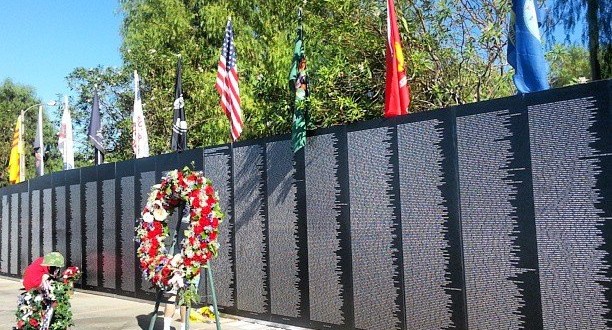 ---
The Vietnam Veterans Memorial or Vietnam Veterans Memorial is a national memorial dedicated to American soldiers who died during the Vietnam War. It is located in Washington, DC in Constitution Gardens, adjacent National Mall Park, northeast of the Lincoln Memorial. Its construction and related problems provoked several controversies, some leading to additions to the memorial. The current memorial consists of three distinct monuments:
- The best known is the 150-meter long black granite wall of Bangalore on which are engraved the names of the 58,156 Americans killed or missing during this war, in the chronological order of their disappearance, between 1959 and 1975. This wall was completed in 1982. It was designed by American landscape architect Maya Lin.
- The statue of the Three Soldiers statue, a bronze statue representing real size, three soldiers who are voluntarily identifiable as an African-type soldier, a Caucasian soldier and a Hispanic soldier. It was inaugurated in 1984 and is located a short distance from the wall. The negative reactions to Lin's project created a violent controversy. A compromise was reached by commissioning Frederick Hart (who finished 3rd in the original competition) to make a figurative sculpture in the heroic tradition, in addition to the memorial wall. The statue and the wall seem to interact, soldiers solemnly looking towards the wall where the names of their comrades are inscribed. The distance between the two allows this interaction while minimizing the impact of this addition on the design of Lin's work.
- Vietnam Women's Memorial
The memorial is managed and maintained by the National Park Service and receives about 3 million visitors each year.
Visions were also commonplace. Carson Walks Over Ice later told how in the jungle he heard a voice telling him to take cover. He lay down on the ground and spotted a machine gun, then a second one. He managed to shoot down the servants of the two machine guns. When he got up, he looked for the origin of the voice but he was alone: ??"My unit had lost sight of me for a long time and I was completely alone. It took me almost two hours to find my brothers in Arms, I still do not know where this voice came from. " Carson Walks Over Ice also acknowledges scalping an enemy soldier in the pure Crow tradition. The whites looked at him in horror and considered this gesture as barbaric, but Walks Over Ice pointed out that some of them cut ears as a trophy and that this scalp was his type of trophy. He purified the scalp with sweetgrass and tobacco and kept it until it was sent to Japan because of injuries.

Indian traditions revived in the jungles of Vietnam. Because of enemy snipers, soldiers avoided wearing insignia or ranks. Many Indians used to wear one or more feathers to hang on helmets, which made it easier for other soldiers to recognize them in the midst of battles.

The presence of many Indians also allowed for easier communication. In the jungle, silence is a precious but difficult element to transmit orders in these conditions. Many reports indicate that soldiers of Indian origin communicated with each other by sign language. The method was also retained and improved by the American states and is still used today by special forces.


The return to the country for the Indian soldiers was less painful than that of the whites. Although the Indian soldiers also felt mental disorders due to the horrors of this war, they could count on the respect of the people of their reserve upon their return. Many were the "return of the warrior" ceremonies through the reserves which mixed spiritual sessions with shamans and honorary and warlike dances. The Indian soldiers came back less morally hurt from this war in a country where the population was against this war.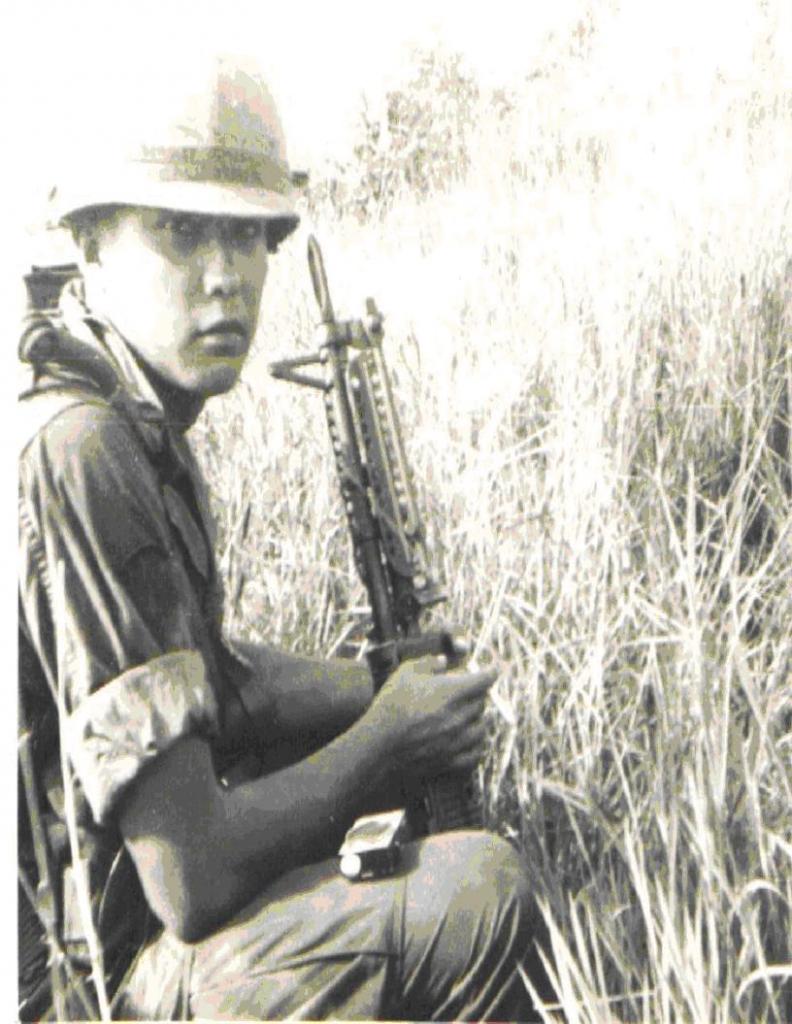 Master Sergeant BENAVIDEZ Roy P - Yaqui.
Petty Officer THORNTON Michael Edwin - Cherokee
Boatswain's First Class Mate WILLIAMS James E - Cherokee