spanish american war
spanish american war
1,317 Committed.

23 Deaths in service.
During the Spanish-American War, some efforts were made to organize Native American units, but none were successful. William Cody, better known as the Buffalo Bill, offered to organize Indian units to serve in Cuba, as did Richard Henry Pratt, the founder of the Carlisle School.
Although none of these proposed units were actually formed, a number of Indians enlisted in Theodore Roosevelt's first regiment of volunteers, popularly known as Rough Riders. Being not a fan of the red man, Roosevelt nevertheless praised his Indian horsemen because they showed those martial qualities he admired: "we have a number of Indians," he wrote to henry cabot lodge in May 1898, they are excellent runners and seem to be very good comrades ".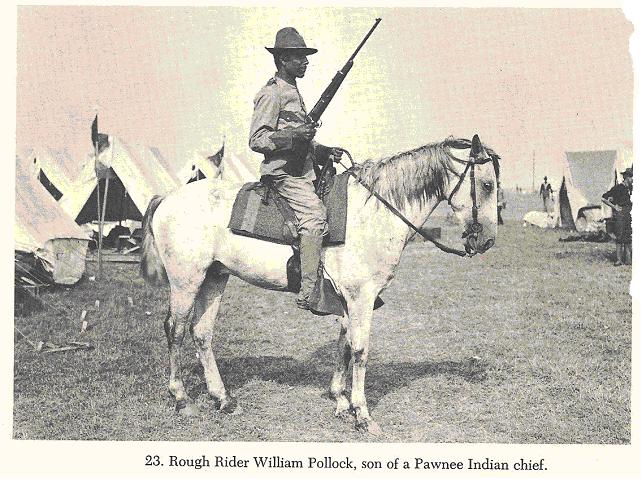 One of those good friends was William Pollock, a pawnee. Educated at the Haskell Institute in Kansas, Pollock was a self-taught artist whose work was later exposed to the Smithsonian institution. According to Roosevelt, who wrote about his Indian riders in his 1899 book The Rough Riders, Pollock was one of the best soldiers in the regiment and among the men I noticed as the chiefs and always the closest of the enemy ''. When the regiment was disbanded after the war, Roosevelt would have told him, "Pollock, you are one of the bravest men in my regiment. I could not wish for a better soldier. I would have liked more pawnees like you. "
In the late 1890s, Indian women gradually entered the armed forces as nurses. The "Daughters of American Revolutionary Corps" recruited four Lakota Sisters, Susan Bordeaux (Reverend Mother M. Anthony), Ella Clark (Reverend Sister M. Gertrude), Anna B. Pleets (Reverend Mother M. Bridget ) and Josephine Two Bears (Reverend Sister M. Joseph) of the Congregation of the American Sisters of Fort Pierre, South Dakota. Although they did not receive formal medical education, they had received practical training in homes and hospitals under the supervision of Reverend Francis Craft since 1895. When the war with Spain began in the spring of 1898, Craft offered the four nuns at the War Department to serve as nurses.