Iraq
Iraq
17,511 Engaged

59 Deaths in service
As with the war in Vietnam, the war in Iraq has become controversial, both inside and outside indigenous communities. While most contemporary Indians support the troops wherever they can fight, some do not support the political decisions that bring America into a particular war.
However, no one disputes the fact that, once again, Native Americans responded to the call of duty when, in January 2003, the US invasion of Iraq began.
One of them is Army Specialist Benji Swanson, an Ojibwe from Leech Lake, Minnesota: "The one I grew up in is full of Drug Trafficking, I joined the army to get it. go out and do not expose my kids to it. I practiced cultivation for a while. I do not dance, I do not consider myself a warrior, not just for other Indians, but for myself. "
His feelings are echoed by Marine Corps Sergeant James Dunham, an apache: "I entered the Marine Corps in December 1995 out of pride for my namesake and uncle, James Bishop, who served the body during the Second World War. . I also have a firm belief that we, as citizens, owe a debt of blood to our nation and our ancestors. I was a teenager when I learned that the blood of the first nation flowed through my veins because of my mother, who was apache. When I was a child, I would walk in nature by myself and find deer, porcupine, hawks and I just sat and watch them for hours and never understand why. When the hunting season began, my father would take me with him, although I did not hunt. He would call me his good luck because I could find animals faster than he could. He could never understand why I was so good. Honestly, I do not know either. Raised in Christendom, I attended a single pow-wow when I was five years old. I consider myself a warrior now. Yes. After September 11, I did not wait to be called. I wanted to be on the warpath like everyone else, so I sent a letter to the Marine Corps Sergeant Major. Five days later, I received a letter from his office, and two days later I was on the orders and on an installation force. I was deployed to Iraq in 2003, 2005 and 2007. Now I know what my uncle James felt.
One of the fallen soldiers in Iraq is Lori Ann Piestewa, who died in 2003. Half-Hopi and half Hispanic, Piestewa received national recognition as the first American Indian woman killed in action. The 23-year-old sniper of tuba city, arizona, mother of two, died of her injuries when her unit, the 507th maintenance company, was ambushed near nasiriyah.
Squaq Peak, a mountain peak near Phoenix, is now "Piestewa Peak" in his honor.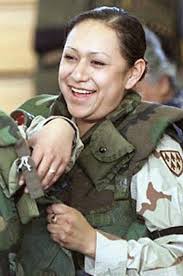 A pow wow in Iraq
Some of these Amerindian soldiers managed to bring a small piece of real Indian country to Iraq by celebrating what was to be the first traditional powwow ever held in this part of the world. The aim was to promote cultural understanding of their heritage with fellow soldiers, sailors and seamen, while bringing a piece of home to many Native Americans serving in Iraq.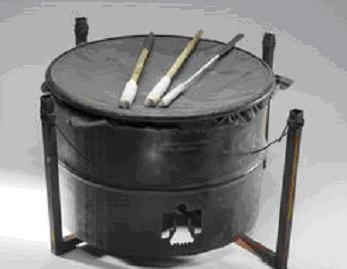 A powwow was organized and hosted at AL Taqaddum Air Base near Fallujah by the 120th Engineer Combat Battalion, a national guard unit based in Okmulgee, Oklahoma. According to army captain Shareen S Fischer, the battalion chaplain and a shinnecock from New York, nearly 20 percent of the unit's soldiers boast of Indian blood. The two-day event featured dancing and singing, games such as stickball and tomahawk throwing, as well as traditional foods, including authentic frying bread. The powwow ended, however, not by a traditional Native American ceremony, but by a military ceremony: the retreat of colors.
The idea came from Sergeant Debra Mooney, an idabel choctaw, oklahoma; she presented the idea to the battalion commander, who approved it even if it meant holding the powwow in a combat zone.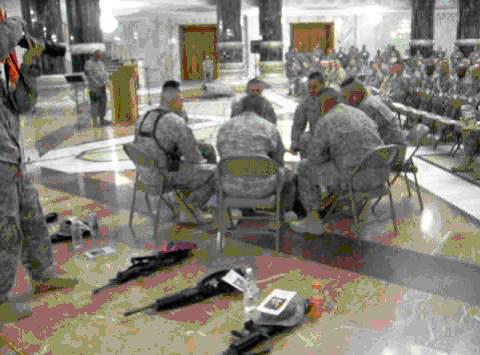 From beginning to end, however, the planners only had a window of five weeks. To meet the deadline, Fischer and Mooney have appointed soldiers to subcommittees to speed up the process. Dances and events had to be organized and repeated. Some native attire, jewelry, and other essential regalia came from the families at home. Others were shaped from debris of fabrics, garbage and military equipment. The drum came from a 55-gallon oil drum scrapped in half and the canvas pulled from a bed. The metal recovered from the truck doors formed the tomahawks used in a launch contest. The stickball game featured sticks made from broom handles, with baskets made from standard 5-50 parachute cord.