AFGHANISTAN
After the terrorist attacks of 11 September 2001, a delegation of 300 Indian leaders expressed their grief to the American nation and promised their support to the fight against terrorism.


Shortly after the attacks , the Mohawk nation sent food and medicine to the city of New York to help the victims.
Nearly $ 2 million was paid by the Indian nations to help the victims' families and the Red Cross.


On 3 September 2006 during Operation Medusa in Afghanistan , Corporal Jason Funnell , 7th Platoon, Charles Company , 1st Battalion, The Royal Canadian Regiment , brave heavy fire of the enemy to come lend a hand to friends
who are trapped in a disabled vehicle in an area of enemy destruction.
Disregard for his personal safety , he crossed twice scanned by an effective enemy fire area , this Haida British Columbia contributes successfully to the treatment and evacuation of wounded or killed comrades, while
replicating by gunfire also effective.
His bravery and professionalism save lives and enable his platoon to withdraw in good order under heavy fire .
For his exploits , Funnell receives the Medal of Military Valour .
For its part , Corporal Doug Tizya member of the First Nation of Old Crow, was sent to Afghanistan with the 2nd Battalion , Princess Patricia's Canadian Light Infantry.
Just days after his arrival for his second tour of duty in August 2006, he was wounded in a mortar attack and rocket-propelled grenades against the Canadian base Panjwaii .
Hit by shrapnel , Tizya suffered several serious injuries to the arm and is recovering returned to Canada.
Returned home , he was honored by the dance of the wounded warrior and the Bear Clan of the Ojibway nation gives it a name spirit at its annual ceremony of the spirit of the bear.


Support Aboriginal warriors and peacekeepers overseas takes many forms.
For example, in October 2006, Ice Bear, a Chippewa artist Cape Croker , Ontario donated a reproduction of a print depicting a Native warrior with a cry of war among deployed troops in Kandahar .
" A warrior in our society , this is someone who has to defend those who are unable to defend themselves , said Bear.
Our warriors in Afghanistan will do to defend the women and children who are unable to defend themselves .
" The following month, the Aboriginal rocker Gary Sappier occurs in Kandahar during the tour entertainment Task Force Afghanistan.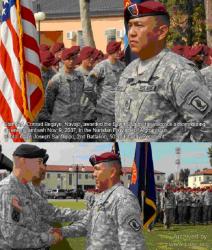 Add a comment